Since 2005, the Taste Institute has evaluated over 15,000 food and drink products from all over the world. The annual Superior Taste Award ceremony is one of Europe's most prestigious events in the food and drink produce industry. Hosted in the historic center of Brussels,
it brings together award-winning companies, chefs, sommeliers and other leading experts, retailers, distributors as well as Ambassadors and leaders of major trade associations
which contributes to making the "Superior Taste Award" the most renowned independent certification in the world, focused solely on Taste.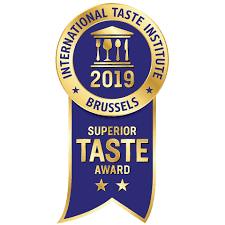 We are proud to announce that our drink has been awarded 3 Gold Stars by the prestigious taste institute We are happy to report that the taste of our AQUA FINE drink is not only the most popular and sought after drink. , but also highly rated by top chefs and beverage experts! Enjoy it with pleasure! The AQUA FINE product won first place in the competition by a jury made up of 200 nutrition experts from 24 countries. Four of our products, including three Aqua Fine and one product Tazej won the award and were classified as "Outstanding Products, with a rating over 90% . The flavors Cherry, Lemon and Melon were the winners for our Aqua Fine product. As for Tazej, Pina Colada won it. Because you deserve the best products, we have put ours under review and we are proud and happy to present them to you every day on your tables and with your meals.
Our products Aqua Fine and Tazej are the first Algerian products to be ranked first in the competition of the International Institute of Taste of Brussels 2020.